In last week's column, we talked about how Japan was using manga to educate pop-culture fans about their moving options.
This week, we examine how pop-culture is changing the way several banks in Japan – traditionally known to be staid, stuffy, and uninterested in the geek dollar, are selling their credit card and loan products.
Known as the Card Loan Girls, these anthropomorphized cards represent products from consumer financial institutions such as Acom, Lake, Aiful, Orix, Mitsui Sumitomo, Mizuho, Mobit, and Promise, and are the latest in a long, long line of anthropomorphized objects to hit Japan.
Of course, the casual otaku should be no stranger to such things, what with ship girls a la DMM's Kantai Collection or sword boys from Touken Ranbu dominating the doujin charts and at the forefront of fan consciousness in the past couple years.
What's interesting though, is the way the Card Loan Girls site uses quality manga style illustrations and a presentation that's almost akin to a dating SIM to woo the geeky demographic.
Entries even list the character's height, attributes and favorite activities (which we assume represent a particular lifestyle or hobbies that might align with a particular loan policy).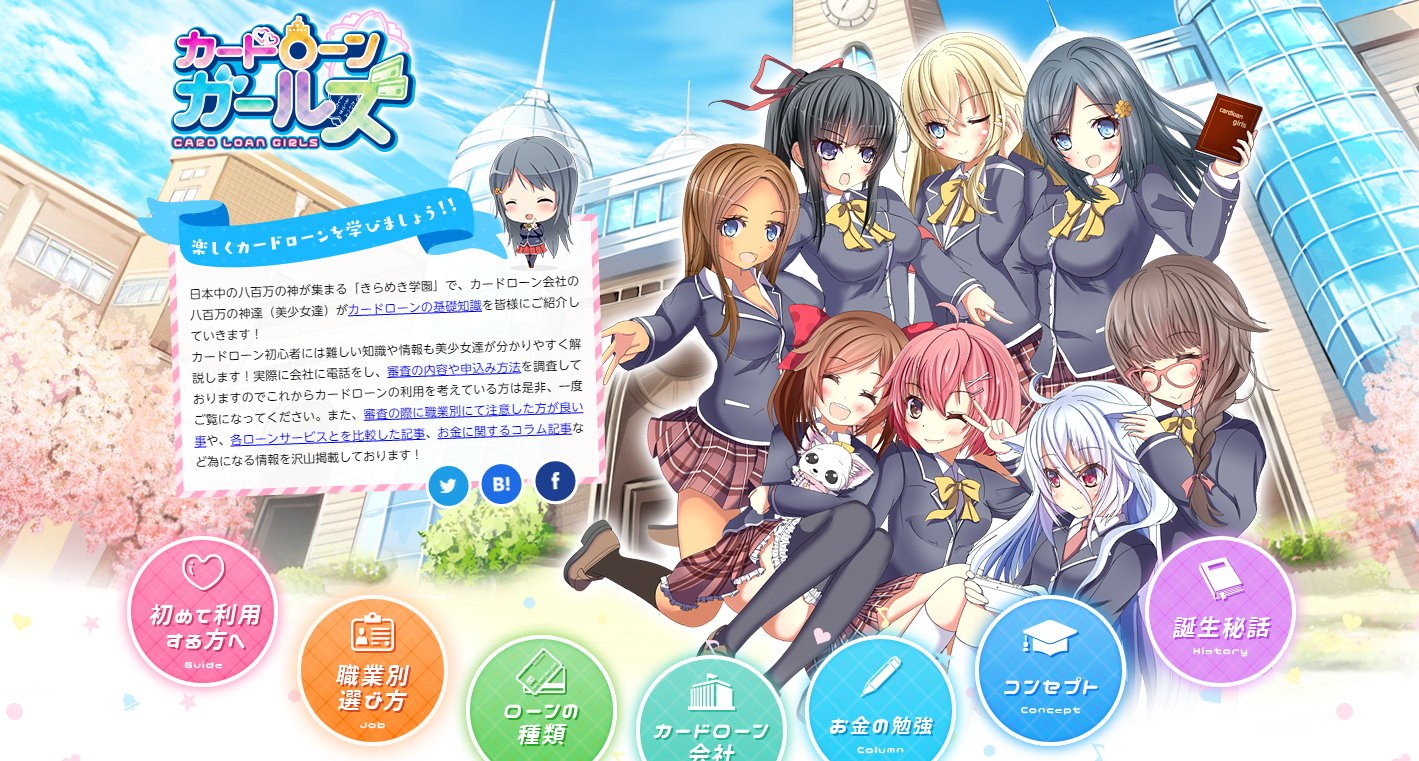 Of course, www.cardloan-girls.jp does more than just flash waifu material at you.
It aggregates details about the participating bank's credit cards and loan products such as interest rates, maximum card limits, even participating ATMs and outlets.
The site also lays out the pros and cons of each product in a nutshell, happily helping you to make informed choices about the card that's most right for your lifestyle, income bracket and spending habits. 
If there's anything otakus need, it's probably financial advice and this campaign might actually be doing a pretty good job at dispensing it.
Local banks have already seen the value of tapping on pop-culture. We curated cosplay content and a manga strip for DBS Marina Regatta last year, but we've yet to see them embark on something quite as ambitious. Hopefully, with pop-culture emerging as the marketing in-thing, we'll see more diverse campaigns on the horizon.
Check out the Card Loan Girls site for yourself at http://cardloan-girls.jp.
If you have a lead on a site or campaign that's a great example of pop-culture marketing, be sure to write us at info[at]neotokyoproject.com to let us know! We'll be happy to take a look at it, and if it is a great fit for this column, we'd be happy to write about it!