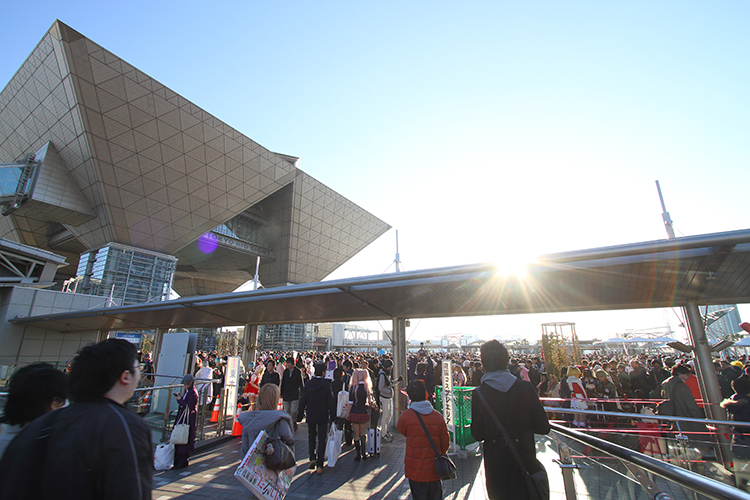 Comiket is war. Anyone without a mission, without a strategy, will accomplish nothing on this battlefield.
After C84 with Arvin back in 2013, I certainly was raving to go for another one, so when I finally got another opportunity, I went back to Tokyo once more – for C89.
I cannot emphasise enough how big Comiket is. If you've been to one before, you'll know. If you haven't, it's unimaginable. Even my memory of C84 had gotten kinda hazy and I was still amazed at how large it was this time. For comparison, take US's largest similar convention: New York Comic-Con. They have over 170,000 attendees over 4 days. At Comiket, a single day has more attendees than Comic-Con for all 4 days, totaling at over 590,000 over 3 days! And these are only the attendees who queue at the opening. Those arriving after noon are not counted.
Back in C84, I didn't care much about doujins and circles, and just went for the commercial booths. My Japanese was quite bad, so I couldn't understand much even if I did buy doujins. But this time, I upped my level, and really prepared for war. Before flying to Tokyo, I had already met up with a group of friends to discuss our plans, routes, and strategies. We had a Facebook chat group and a Whatsapp group for communications as well.
I took the first train from my hotel down to the Tokyo Big Sight. But when I got there, there were a number of people already ahead of me! Ok, I thought, it doesn't look that bad. That was until the sun rose and I could see everything…
The only level up from here is to queue overnight, which is what one of my friends did. You have to be prepared though. This is winter, with temperatures around 4C or lower in the middle of the night. Summer is easier, and that means more people queue overnight too.
Queueing is almost like what Comiket is made out of. You do that for everything – from getting in, to buying your stuff, to use the vending machines, toilets, everything. And usually, from the tail of the queue, the head is not visible, and vice versa. This can leave people confused as they search for the tail to join the queue. No doubt, with experience, this gets easier.
This year's comiket was divided into (mostly) Day 1 – BL (and Gundam), Day 2 – Kancolle, Touken Ranbu, and Touhou, Day 3 – iM@S and LL!. I was targeting the commercial booths, Kancolle, and iM@S, so this was pretty much perfect scheduling. The people who arrange these things are very knowledgeable about the fanbase and content, so they try their best to schedule it such that most people can get what they want.
Now, knowing what you want to get isn't sufficient, you also need to plan how you want to get it, because…
That booth you want to visit is a high school classroom sized table located in there somewhere! You aren't going to get to it without planning! Also, check out the flow of people between halls:
Another thing to be amazed at is, despite the colossal crowd, everything runs superbly smoothly! It is crowd management at its finest. You have to give it to them:
There are 3,500 of these volunteers who help out on minimum 2 of the 3 days in Comiket. I asked my Japanese friend, and he said that all these people get is a free Comiket catalog (worth ¥2,500), a free meal, and get to keep their hats and armbands. That's it! And yet, each Comiket has more applications for volunteers than they accept! So why would they sacrifice being able to buy stuff? Well, apparently these volunteers have enough connections that they can get what they want from their friends.
You might be wondering now, how did I get all these photos, wasn't I located in a battlefield rushing for my own stuff? Well, see, Comiket almost ends at noon. By the time you hit around 11.00am, the most popular booths sell out:
The popular booths then sell out around 1pm, and by 2pm, you are basically left with all the non-famous/popular ones. That is not to say that they are not good, just not as well known. For instance:
Circles not from Japan can be found participating in Comiket. I did come across several from China as well, and they sell good stuff too!
On day 3 usually, you can find circles dealing with electronics. Anime, manga, and electronics are somehow related as proven in Akiba, and here is no different:
Comiket is not just about doujins and merchandise, but also about cosplay. Here's a shot of one of the several cosplay areas:
Gochiusa, short for Gochuumon wa Usagi desuka? (Is the Order a Rabbit?) is the biggest thing in Akihabara currently, and I was glad to be able to find a full cast of cosplayers here at Comiket!
If you're looking for more cosplay pictures, check out our C89 Facebook Album!
The spirit of Comiket is meant to be a community thing, as you might find in the official brochure and website. There are no "customers", but only participants. This is something everyone understands. And while it gets really crowded and disorienting, the whole convention proceeds in a very orderly fashion. Even during one incident I witnessed where a cosplayer wasn't happy with the way someone was photographing her (rather *ahem* angles) and things got a bit heated, everyone helped to ensure that the photographer didn't run away and a staff member was called to help. The photograph was deleted, and all was alright.
At the end of it, Comiket leaves you with a tired but wonderful feeling, as you go back to count your loot (which can't even fit in one picture). I can't quite describe how that feeling is like, but it's something of awe, satisfaction, amazement, and accomplishment. Comiket is an amazing experience that will keep you going back for more! However, as you leave, there's always someone to remind you…