For any anime lover worth their salt, there's no bigger event on the calendar than Anime Festival Asia. It's the holy grail of otaku fandom, and if the crowds that thronged Suntec Convention Center over the weekend were any indication, it's that SoZo's signature show is still the undisputed king of the hill despite a two year hiatus.
The event commanded 5 halls this year, and counted among their exhibitors Bandai, MAPPA (the studio behind Chainsaw Man), Bushiroad, Genshin Impact, and popular card game Yu-Gi-Oh. The usual suspects like Hakken (the character goods store, not to be confused with Hakken, the cosplayer) and Aniplus were also present.
Of course, our main reason to be there this year was to check out their AFAverse activities (because gamification is cool), and the Creator's Hub (AFA's take on the Artist Alley), which swelled to more than 160 booths this year, and included a bigger variety of artisanal creations and fan art compared to the past.
AFAverse turns the NFC enabled wrist tags that visitors get into a new way to interact and rack up points through various challenges at the con, which could then be turned in for a chance at swag.
The mobile friendly AFAverse site that helped track these points was also designed with the visitor experience in mind, and included easy access to the convention map, schedules, and exhibitor details, which meant not having to fumble with a convention booklet.
We didn't level up much because we weren't weeb enough, but it was obvious from the excited faces of other convention participants and the AFAverse leaderboard that this is a welcome addition to the show!
Talking about games, we were excited to see one of our favorite local game studios at AFA this year. Cuisineer is a dungeon delving, monster cooking roguelite, and it's looking more and more impressive by the day. and we can't wait to play it when it eventually releases on Steam.
Another familiar face at AFA was Matrix Cyberstore (a.k.a. the Avermedia and XP-Pen people), who were promoting their latest range of tablets and streaming equipment, as well as their VTuber talent group V:D0.
Predictably, the Creator's Hub was jam packed and squeezy, despite the aisles being 3 meters wide. Fortunately, we got to visit our favorite artists, and met many more talented and creative individuals while we were at it.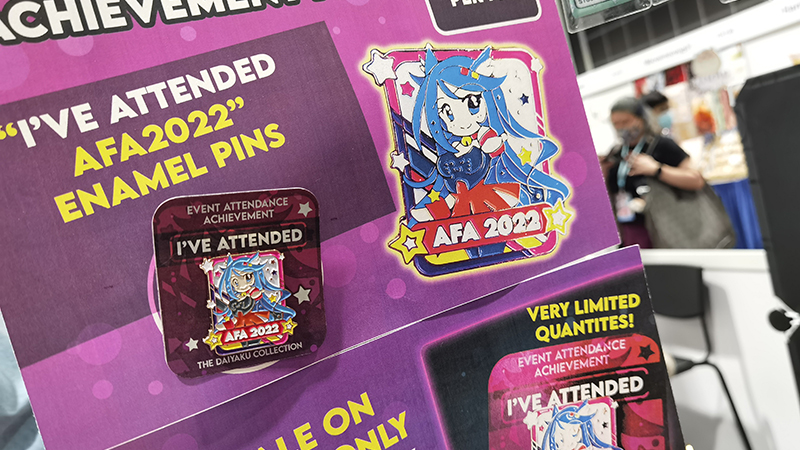 The AFA Singles Cosplay Contest has always been somewhat special to us. After all, we've strutted on that stage several times ourselves, whether in fabric or armor, and we were delighted to see that there were some really impressive, stage-worthy cosplayers in the line up.
We were especially impressed by the Ruin Grader from Genshin Impact, whose gimmicks stole the show. It was a pity we couldn't get anywhere near the stage because the place was chock full of excited newbie cosplayers and fans jostling to get pictures that blocked the aisles. Hopefully their passion was ignited, and we'd see some of them learning to craft and compete next year!
All told, AFA 2022 has been a delight, and it's obvious that the convention scene is healing. We can't wait for more events to return in the coming year, and to see what AFA 2023 has to offer!