Oh man! What a game changer! Thanks (or no thanks actually) to the Tokyo Olympics this year, Winter Comiket (and the summer one as well!) has not been able to use a large portion of the halls available at Tokyo Big Sight. 東1~ 東8 were all being reserved as they prepare for the Olympics! It's been a huge hit to capacity of the venue so much so that Comiket (both summer and winter) was a full FOUR day marathon this time round AND we've had to have the corporate booths shift to the 青海 site which is around 1km away! Hurry up and return us our halls!
We've definitely had the most number of participants in any Winter Comiket so far thanks to the 4 days. Although we had fewer booths per day, that allowed everyone to come back one more day to participate to result in an overall… 750,000 people!!! (D1:190,000 + D2:180,000 + D3:190,000 + D4:190,000)
A round up of the circles this year: The Fate series has inched up a little slightly, and are still maintaining their lead overall by a large margin to the second spot held by THE iDOLM@STER which shrunk very slightly. Third place last year was Kancolle (艦これ), and they only narrowly lost to iM@S, but this year they shrunk quite a bit so they're now undisputed third. If they continue to shrink at the same rate, they're going to lose to Touhou (東方) in fourth place which had the same number of circles as the year before. One important development to note is Virtual YouTubers have become a thing since last Comiket, although I didn't mention it, but the number of circles covering them have almost doubled! They're currently in fifth place, but we'll see how this trend continues next year. Azur Lane (アズールレーン) which I had hoped would start to rise in the rankings seems to have stagnated and actually shrank a little to eleventh place. Seems like that's going to be where it'll stay.
The corporate side, however, is another different matter. We still have Yostar pushing hard. They've now started to launch Arknights (アークナイツ) as well. It's newly launched for EN, but actually the JP server has been up for quite a while already! With these two games they had a nice booth up, and really long queues: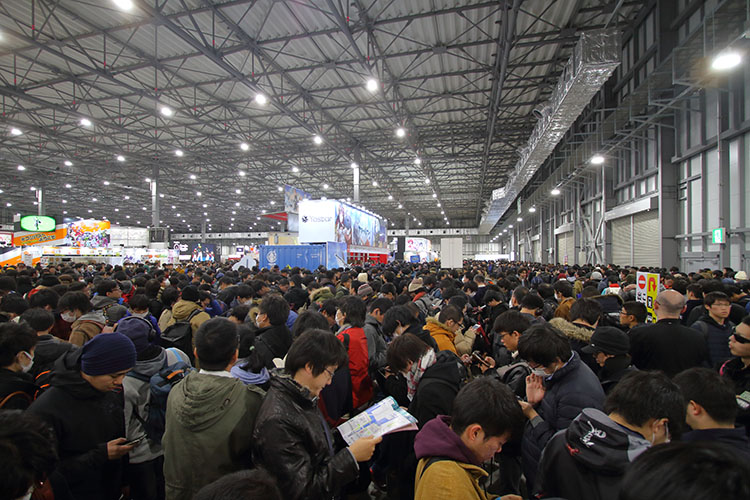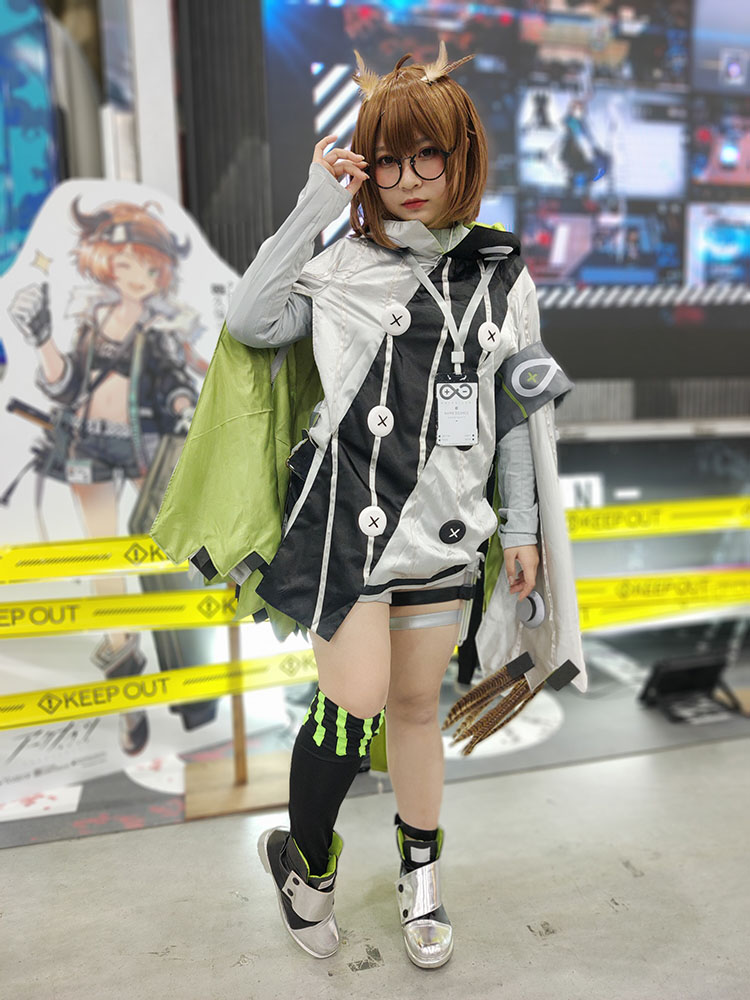 I actually decided to enter it because I wanted some limited edition stuff. A corporate queue like that would easily take around 1-2hrs, but that was no matter since I had already finished my morning raid at the doujins side. But man, the walk was fairly long! I did mention earlier that they shifted to the 青海 site, which is across the bridge of the same name. A journey of about 1km means you absolutely can't hop back and forth between the two (not that it was actually normal strategy before this).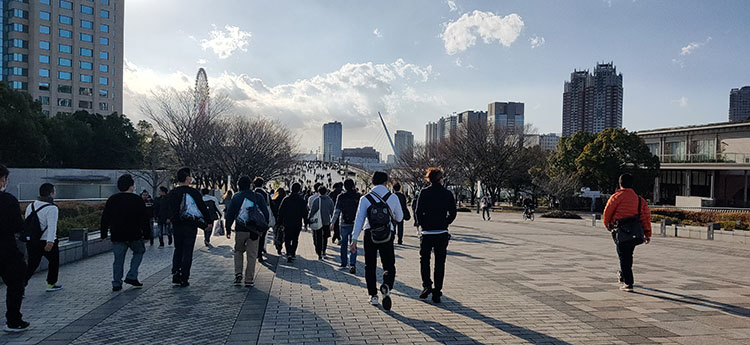 There were quite a number of people moving back and forth between the two sites. I actually moved back and forth twice due to some miscommunication, but the weather was great and so I enjoyed the walk!
Besides Yostar, Nekopara (ネコぱら) came back yet again! They had an anime to promote this time (which is currently airing), and there were of course the regulars like NBC Universal, Kadokawa, COSPA, etc. Saekano was also there since they've just finished their movie and basically wrapped up the whole series.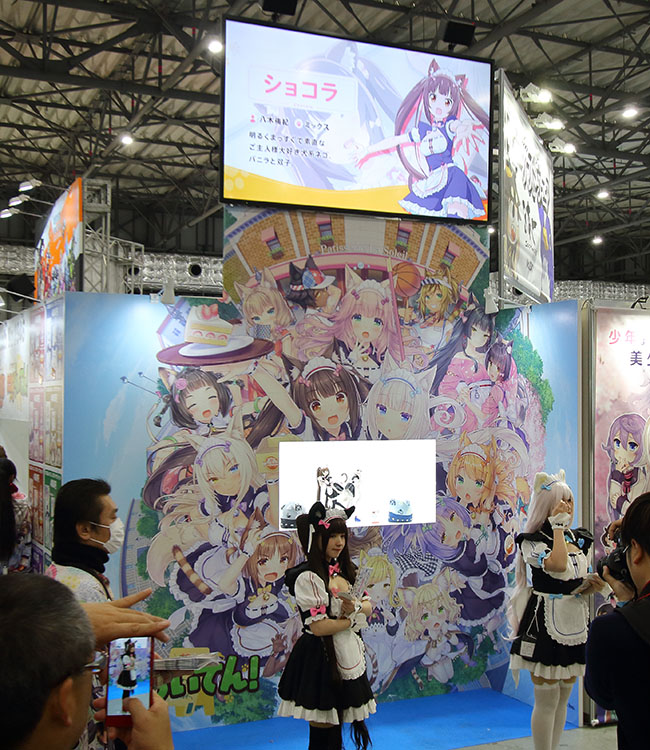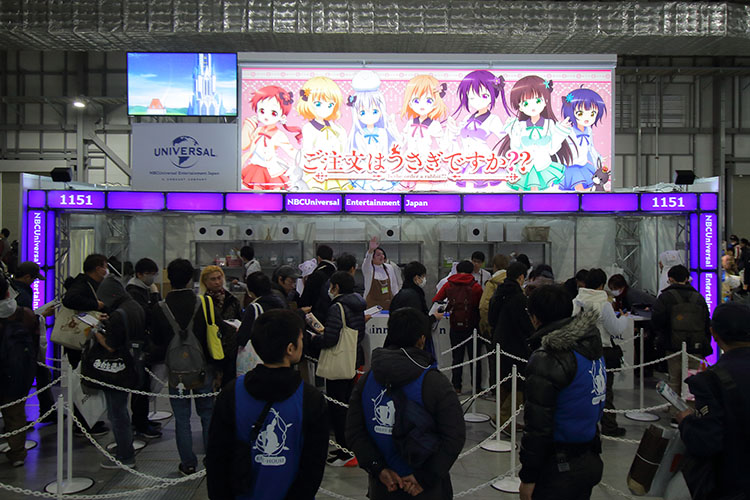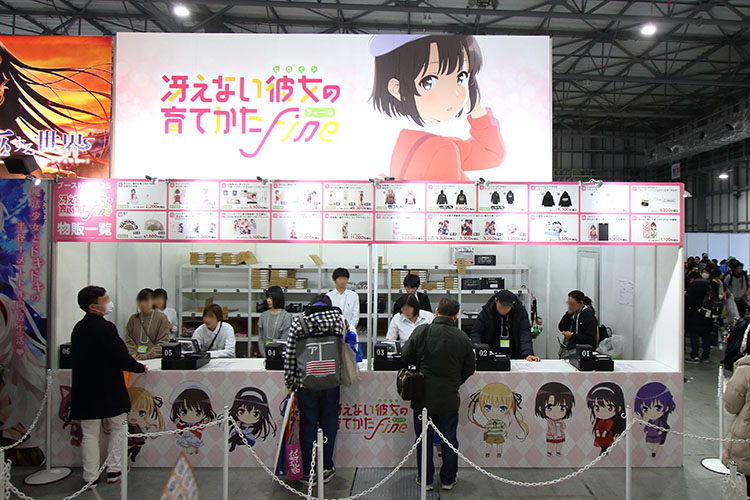 But enough of the corporate stuff and back to the main site! As I mentioned earlier, there were a total of 8 halls that closed. If that was the only thing that happened, there wouldn't be enough space for Comiket, even with the corporate booths shifting "off site". Thankfully, we had another few more halls that opened: 南1~ 南4. Along with taking over the space of the corporate booths, this meant that we had to come up with new tactics, because the battlefield was now 3D (the third dimension being height) instead of the usual 2D. (I shall leave some of you to chuckle over the 2D vs 3D inside joke, and whether this whole war is actually 3D or 2D ww). Yup, this is the new hall (which had been open since summer):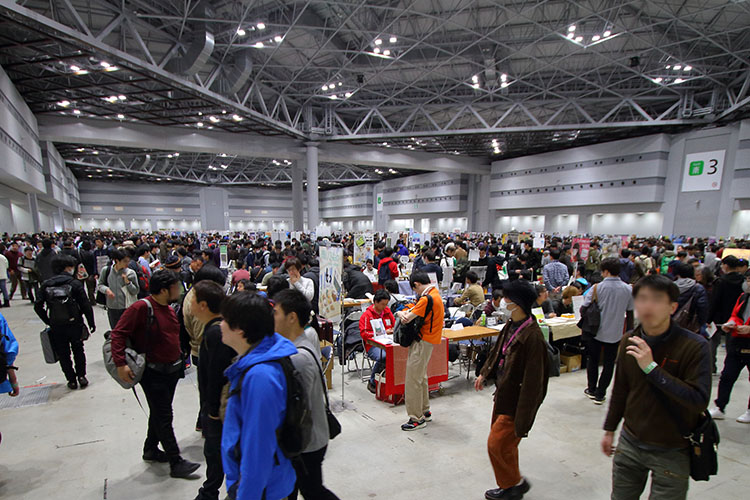 Now for this year's featured participant among the unusual stuff I write about: 原田 ひとみ (Harada Hitomi). She's a well known 声優[seiyuu] (voice actress), and some of her more prominent roles are in Baka to Test to Shoukanjuu (バカとテストと召喚獣), Hidamari Sketch (ひだまりスケッチ), THE iDOLM@STER Cinderella Girls, and Senran Kagura (閃乱カグラ). However, in Comiket, circles are independent of any corporation (or else they'd be at the corporate site!), and so they never represent any commercial works. Hence naturally, Harada-san here was boothing as her own independent circle HoneyContrast!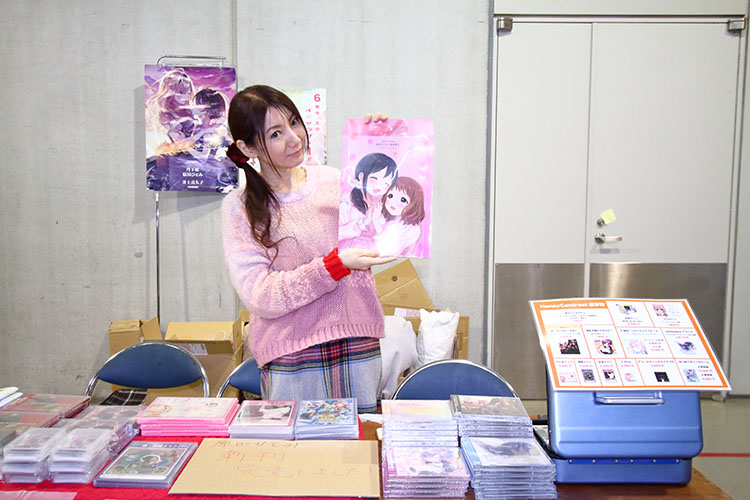 HoneyContrast (and hence Harada-san) has actually been a regular participant in Comiket (both winter and summer) for the past few years! Her works tend to be on the yuri side, and she even has a binaural audio CD or two which has the fantastic effect of making you feel as though you are actually there by playing around with the spatial placements of the audio. (You can read more about binaural audio from Wikipedia) This latest doujin that she's seen holding is a 4-koma of her and Nanjo-san. It's based off their real interactions, or so she says. It is pretty funny!
Moving on, we have a foreign participant circle! From Russia, Moe Era: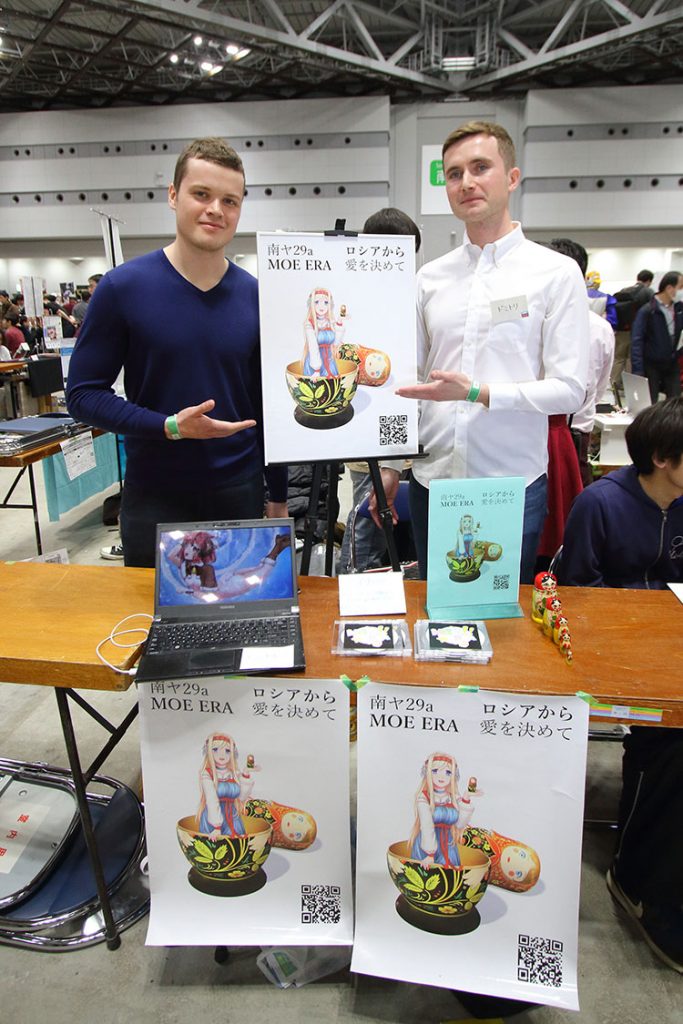 When I interviewed them, I found out that they had participated previously in Comiket as normal participants, but this was their first time as a circle! Their game, Moe Era, is a Visual Novel (or VN) with 5 main characters: a Russian, an American, a Chinese, a Japanese, and a mystery character! It promises to be a standard type of VN, but with an intriguing plot which they hope that everyone would enjoy. The game released at Comiket is only a demo version, but they were excited to tell me that the full release of the game will be free on Steam very soon on 4th February!
Over to the electronics section once more (I've mentioned before that there's this strong connection between anime, manga, and electronics somehow), there are booths selling all kinds of things from nifty gadgets to manuals on how to program. This time I wanted to show you one of the circles doing Nixie tubes: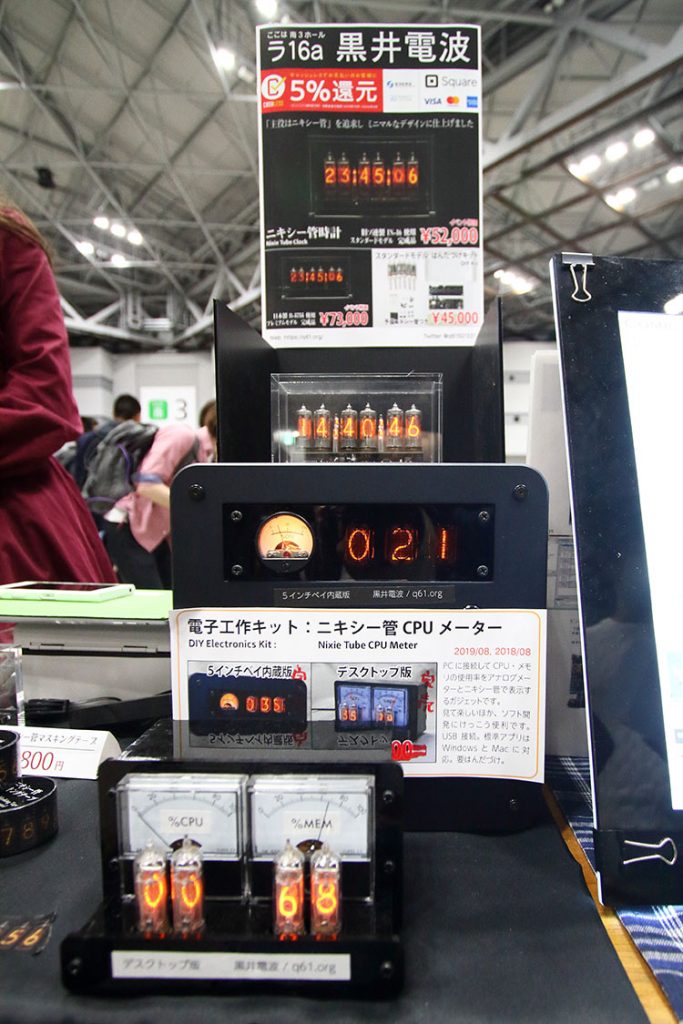 There's typically a whole row of circles showcasing Nixie tubes, and I think it became more popular since Steins;Gate had featured it a number of years ago. But then again, I hadn't been to Comiket then, so I can't say from personal experience. The circles doing Nixie tubes all focus on the aesthetics of it, after all, it's long been superseded by seven-segment displays whether LCD based or LED based. Nevertheless, Nixie tubes definitely have a unique appeal and they are here to stay.
And so concludes the 1st Winter Comiket of the Reiwa era. I must say that I didn't take any pictures of cosplayers (the non corporate booth ones) this year. I did have a look around the cosplay areas a bit for enjoyment, but because I was quite tired (we planned till around 1-2am every night to get our strategies right), I left pretty early on two of the days to get some rest, and spent the other two browsing the circles or stuck in the corporate booth lines ww. Nevertheless, it was definitely really fun to see how well we could adapt to the new battlefield. We had one or two "casualties" from our list on one of the days, but apart from that, we hit the rest perfectly! (You can have a look at my spoils of war on my Twitter if you want =p ) Once they return the East Halls back to us (should be the end of this year, 2020), the scenario will again change, and I'm again quite looking forward to that.
The change in dynamics had definitely an impact on the Comiket Committee and volunteers, not just us participants. Crowd control was different, and got a bit confusing at times, but everyone cooperated to allow things to continue to flow smoothly, because that's the spirit of Comiket. Participants (not buyers, nor sellers) are all here to contribute to the atmosphere and zest of Comiket.
I was once again looking for the 現実 (reality) sign at the end of the last day which I had missed last year and the year before, but I couldn't find it! Perhaps I had stayed too late this time round! Oh no! The hunt for it continues… at the end of this year!